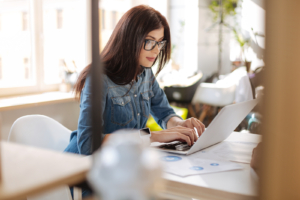 While self-employment carries many benefits, lenders don't always make it easy for you to qualify for a mortgage. That's why it's important to work with a mortgage broker who understands how to find solutions catered to your unique needs. This includes assessing your financial situation, preparing the required documentation, navigating the intricacies of the process and ultimately empowering you with homebuying confidence. 
With close to three million Canadians choosing to work for themselves, you're part of a significant demographic, and an important source of employment and economic growth for the country. Still, because many self-employed individuals deduct a considerable amount of expenses from their income, primarily for tax purposes, their income appears lower than it is in reality. This presents a red flag for lenders who tend to view those with non-standard income as more of a risk than those who receive a regular paycheque from an employer. 
As a result, if you're self-employed, it may be more difficult to obtain a mortgage – especially from traditional lenders like banks, who have stricter lending criteria than non-traditional lenders, even for those with more 'regular' income and employment. Also adding to the challenge are tighter policies around mortgage qualification including government-mandated stress testing. 
Alternative and private lenders focus less on income
The good news is that there are options available such as alternative and private lending companies, also known as non-traditional lenders, who are generally better suited for self-employed borrowers with non-traditional income. One of the main reasons is that their qualifying criteria (eg, income, employment and credit score) tends to be less strict than with a traditional lender, and they place less of an emphasis on income while focusing more on the value and marketability of the property you're buying. 
Just like banks, however, alternative lenders are required to exercise diligence in evaluating applications – not only to protect themselves from liabilities, but also to ensure successful and stable homeownership. As a result, you'll still need to demonstrate your ability to make your monthly mortgage payments, carry a good credit score and have acceptable debt service ratios. They just don't need to be as high. Keep in mind, however, that the lower qualification criteria and ease of qualifying are generally offset by higher interest rates. 
In recent years, mortgage default insurers – Canada Mortgage and Housing Corporation, Sagen (formerly Genworth Financial) and Canada Guaranty – have provided lenders with greater flexibility to assist self-employed Canadians obtain a mortgage, including accepting a broader range of documents particularly for proof of income and employment requirements. 
Setting up your own business requires a lot of time, dedication and hard work, and the same can be said for obtaining a mortgage. So, if you're self-employed and looking for a mortgage, you may need to work a little harder and work with an expert a bit longer but, in the end, your new home will make it all worthwhile.
Have questions about your mortgage options? Answers are a call or email away.
Schedule a call today: https://meetme.so/KentBittner/
Email: Kent@bittnermortgages.com
0
0
Larissa
Larissa
2021-02-01 13:23:47
2023-04-09 20:23:39
Self-Employed? We Have Mortgage Financing Options Just for You!